Besides preparing for IEM Katowice, which didn't end as well as the team could've hoped for, the Counter-Strike Global Offensive team have been competing in the Gaming.dk SteelSeries Championship.
The prizepool is 25,000 DKK – around 3,350 Euro.
In their first match, Reason Gaming fought against tRICKED eSport which ended with a 16:8 scoreline to the Danish side of Reason. Next match was against PUMPERNE, with a bunch of former stars from Counter-Strike: Source and 1.6 this was expected to be a tough match however they didn't put much of a fight into the match, and Reason was now 2:0 in the League.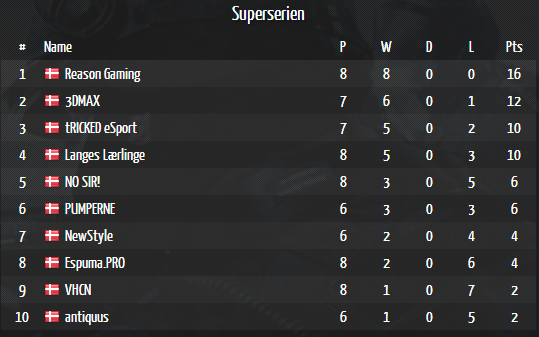 (Current standings)
In Round three, NewStyle was ready to fight for their place, they are a relatively new team on the Danish scene, with a bunch of new names too. Reason on the other hand, have a lot of experience – so a couple of rounds later – they were up 3:0
From round four to 7, Reason won almost every match 16:5 or 16:8, not much happened in those matches and Reason managed to close them early. In round eight, 3DMAX was up next. Both teams have had a little rivalry going on for some time now, and it was a close match – but Reason Gaming pulled out as winners, with a 16:12 victory over 3DMAX. This means that Reason Gaming are currently topping the scoreboard, with 8 wins, 0 draws and 0 loss – 16 pts.
With an outstanding performance so far from the team you won't want to miss out on any of the action, stay tuned for more updates.